Wann:
14. Dezember 2018 um 19:00 – 23:30
2018-12-14T19:00:00+01:00
2018-12-14T23:30:00+01:00
Wo:
Hellraiser Leipzig
Werkstättenstraße 4
04319 Leipzig
Deutschland

Kontakt:
Bruno Booking
+49 179 394 78 31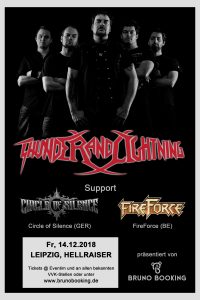 Thunder And Lightning (D)
Circle Of Silence (D)
FireForce (BEL)
Power Metal & Combat Metal ohne Kompromisse. Nur zwei Shows in Deutschland in 2018 – nicht verpassen.
~~~~
Thunder And Lightning:
Heavy indeed but with harmony, old-school but not self-limiting traditionals – here are THUNDER AND LIGHTNING from Berlin.
Screaming vocals with, tons of riffs, delicate solos and pounding drums are the main reasons for THUNDER AND LIGHTNING being a live band, which nobody can take their eyes and ears of.The quintet exists since 2004, 2005 and 2006 two demos were recorded. Vocalist Norman Dittmar joined THUNDER AND LIGHTNING 2007 and with his unbelievable voice range he was a real enrichment to the band.
In 2008, with the new drummer Steve Mittag (Ex-Orth) a line-up was formed, which made it possible to transfer the songs to a new level – now the band is able to present their version of Power / Thrash to the Metal scene, and place it in the glorious line of their archetypes. The new lineup released the album "Purity" in october 2008, which was highly regarded by the press and stated the band high potential and outstanding songwriting.
In 2010 another big step came with the "Dimension", and with it the signing of the first record deal, with Hammersound Records. The album got again great reviews and shows all over europe, like Rock In Schroth Festival, supportshows for THE SWORD and PRO PAIN and clubshows in Austria and Poland THUNDER AND LIGHTNING opened for the heavy metal legend GRAVE DIGGER in late 2011.
~~
Circle Of Silence:
2018 kehren Circle Of Silence mit Ihrem neuen Album "The Crimson Throne" zurĂĽck auf die BĂĽhne. Das VuD Open Air wird eine der ersten Shows mit neuen Songs im Gepäck sein, seit also gespannt denn die Band wird 2-3 neue StĂĽcke spielen und erstmalig einem größeren Publikum präsentieren.
Auf dem kommenden Album regiert erneut kompromissloser Power Metal amerikanischer Prägung. Von stampfenden Hymnen bis hin zu thrashigen Up-Tempo-Songs beinhaltet "The Crimson Throne" alles was das Headbanger-Herz höher schlagen lässt wird aber eine Spur härter sein als der Vorgänger "The Rise of Resistance".
Prepare yourself for the THRONE!
~~~~
FireForce:
FireForce wurde 2008 von Flype und Erwin gegrĂĽndet, beide vormals bei Double Diamond im Lineup.
Februar 2009 ging es direkt ins Studio um eine 4-Song-EP aufzunehmen, die von RD Liapakis (Mystic Prophecy) produziert wurde. Das direkte Ergebnis dieser Produktion war ein Plattenvertrag in Deutschland. Die Aufnahmen in diesem Vertrag entstanden in den "Music Factory Prophecy Studios" in Kempten unter der Aufsicht von RD Liapakis und Soundingeniur Christian Schmid. MARCH ON, das erste Longplayer-Ergebnis dieser Zusammenarbeit wurde am 25. März 2011 veröffentlich.