Wann:
15. Februar 2019 um 20:00 – 23:45
2019-02-15T20:00:00+01:00
2019-02-15T23:45:00+01:00
Wo:
Kulturfabrik Mühlhausen
Ledernes Käppchen 1
99974 Mühlhausen/Thüringen
Deutschland

Kontakt:
Bruno Booking
+491793947831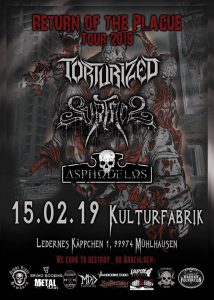 Return Of The Plague Tour – We Come To Destroy … Du Arschloch!
Am 15.02 kehren Surface, Torturized und Godskill mit der Return Of The Plague Tour zurück, dieses Mal macht die DIY-Tour Halt in Mühlhausen, für Godskill springen Asphodelos ein, die den Abend eröffnen und GodSkill gebührend vertreten werden.
AK: 10€
https://www.kulturfabrik-mhl.com/
Surface Hamburg
Thrash / Death Metal
FACEBOOK: https://www.facebook.com/Surfacemetal
YOUTUBE: https://www.youtube.com/user/Surfacehamburg
INSTAGRAM: https://www.instagram.com/surface_metal/
Hamburg, German Death Metal. Most recent album "Rise of Kronos."
Discernable death growl lead vocals accented with blackened roars and flairs and delivered with angry rhythmic punch. There is a sprinkle of clean vocals in a couple of the tracks, but it's for effect rather than a primary approach. Rhythm guitar and bass are modern, heavy and driving with plenty of crunch. Lead guitar is intricate and consistently serpentine in its sinister melodic maneuvers. No traditional face melting solos, but plenty of heavy groove breaks, and head bang worthy bridges and transitions. Drums are a syncopated blast beat rich attack that aren't afraid of a traditional gallop or drive, but do a good job of keeping the listener grooving and on their toes waiting for the next switch.
Composition is modern death with progressive sensibilities. Songs are short and punchy, but have a lot going on in every moment. Lyrics are about the Greek pantheon, legendary weapons, battle, and monsters.
Sounds like a beast with the head of Meshuggah, the powerful torso of Bolt Thrower, the savage hunger of early Behemoth, and the blackened hooves of Show No Mercy era Slayer. A brutal and efficient killing machine.
(c) Aaron Copeland
Torturized
Death Metal
FACEBOOK: https://www.facebook.com/torturizedofficial
YOUTUBE: https://www.youtube.com/user/TORTURIZEDofficial
INSTAGRAM: https://www.instagram.com/torturizedofficial/
Magdeburg, Saxony-Anhalt, German Death Metal. Most recent album "Omnivore"
Deep, guttural, death vocals supported by a unique angry goblin back up that some short verses are delivered in. There is plenty of grit and disdain in the delivery and the singer is not afraid of a full pig squeal or incapable of a fuming, seconds-long, septic gargle. Guitars and bass are a relentless swirl of crunch, with interesting use of tremolos, dark harmonies, sinister melodies and insatiable heavy groove breaks. There are no traditional solos, but there are some progressive style transitions and one short but surprisingly melodic instrumental track. Drums are fast, aggressive jackhammer attacks that overflow with blast beats, but don't skimp on the percussion acrobatics.
This is a full on death assault with heavy tech death leanings and sprinkles of progressive and black metal. Tracks are short, brutal and into the guts quickly. Lyrics are about horror, the brutality of the human condition, and death.
Torturized blends Nile, Morbid Angel, and Deicide, distills out a lot of the satanic vibe, and delivers a tight brutal kick to the jaw.
(c) Aaron Copeland
Asphodelos
Death Metal
FACEBOOK: https://www.facebook.com/AsphodelosBand/
YOUTUBE: https://www.youtube.com/watch?v=6wLfKmyy1SQ
INSTAGRAM: https://www.instagram.com/asphodelosofficial/
Jena, Thuringia, German, Thrash, Death Metal. Most recent album "The Five Rivers of Erebos"
Deep, rich death growl as the primary vocal armament backed up with a higher blackened death vocal on some numbers. The vocal cadence and ability to subtly adjust and maintain punch is especially impressive given the bands propensity to switch between thrash drives, death grinds, and black sonic vistas. Guitars are heavy and wicked in equal measure bringing compelling melodies, brutal death grooves, and black tremolo rich stomps together, in single tracks, seamlessly. There are also some shredding solos that whip in, sever a limb, and move back out before the blood begins to spill. The Asphodelos rhythm section is agile and powerful with a droning death bell of a bass tone that adjusts well with the musical maneuvers, and a drummer who seems like he aced thrash, black and death schools, with honors. There are black blast drives, thrash gallops, and death grooves a-plenty.
Asphodelos calls itself thrash and death, but there is a lot of black influence in their work, and the combination of the three aspects doesn't feel forced, awkward, or exhibitionist. Songs are predominantly short, with one exception, but they feel like musical journeys, in a good way, without overstaying their welcome. Lyrics are about ancient Greek monstrosities, death, evil unleashed, and slaughter.
These guys are heavy; combining the melodic death skill of Amon Amarth, the creative wickedness of Melechesh, and the punching strength of Belphegor. This is not a drill.
(c) Aaron Copeland
Unterstützt wird die die Tour von folgenden Partnern:
Night Light / Bruno Booking / Blue Anchor Tattoo / MDD Records/Shop / Audiodrive Studio / Zephyrs Odem / Loudside Benefiz / Mosh&Roll / Gebrüder Hass / Wacken Foundation